One of the greatest singers of not only heavy metal, but of all time passed away today. Ronnie was one of my favorites and forever will be. This is what I learned from him.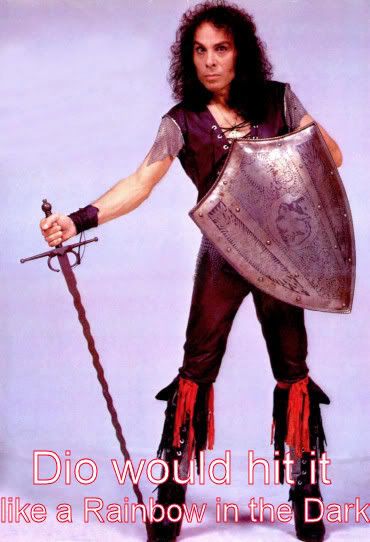 I learned that you will know for the first time, if your evil or divine you are the last in line.
Sail on - Sing your song - carry on
If you walk in golden halls, you get to keep the gold that falls.
Is a wise man always wise? NO! He can play the fool.
We are fire, we are a flame and we burn at the touch of a spark.
Then on with the change,It was simple but strange and you knew the feeling seemed to say it all
LOOK OUT!
Your a dancer, but you're dancing on air,just a matter of time till you fall.
Love can be seen as the answer, but nobody bleeds for the dancer
There is a place just south of witches valley, where they say the wind won't blow.
If you listen to fools, the mob rules.
The devil is never a maker, the less that you give, you're a taker
The lover of life is not a sinner,the ending is just a beginner
Well if it seems to be real, it's illusion
Throw me a penny and I'll make you a dream.
Time is a never ending journey,Love is a never ending smile.
Never trust your shadow in the dark.
I'm the sun, I'm the sun,I can move, I can run But you'll never stop me burning.
When there's lightning - it always bring me down.
We pray to someone, But when it's said and done,It's really all the same
With just a different name.
We're all born upon the cross.The throw before the toss.You can release yourself
But the only way is down.
Holy Diver, your the star of the masquerade, no need to look so afraid.